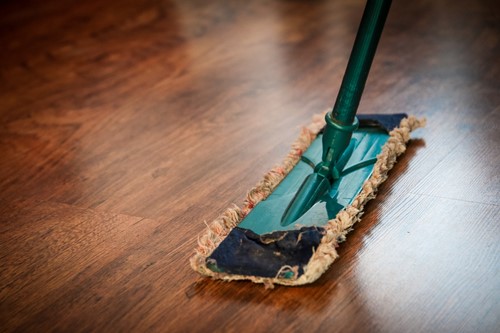 Mopping the floors is a thankless job that seems to get undone a second after you finish up – and it doesn't take much. A small spill while cooking dinner. Kids and dogs running in from outside. You name it. And with that, you're back to square one, pulling out the mop and bucket for another round. But when you have a robotic mop on the job, you can kiss all that goodbye and simply move on with your day. Even better news, new home builders are putting these mops into residences in droves. Here's what you need to know.
How a Robotic Mop Works
Robotic mops are relatively simple devices with a sponge on the bottom and a refillable reservoir for cleaning fluid. Like robotic vacuums, they create a full scan of the floor plan, and then follow a precise path to clean your floors on the given schedule. You can tell the mop how often to clean up and how hard to scrub. Once it's programmed, it does all the heavy lifting, and you just have to refill the cleaning fluid and replace the sponge from time to time.
Benefits of Using an Auto Mopping System
If you buy a home with an auto mopping system installed, you're in for a treat. Leaving this dirty job to the robots will allow you to enjoy all the following benefits.
Convenient Hands-Free Operation
Once you have your robotic mop set up, you can just let it run without getting your hands dirty. The only time you have to get on its level is when it needs a bit of service, like a fluid refill or sponge change. Otherwise, you can just make changes in the app as needed and admire its handy work from afar.
More Time for Your Other Activities
If mopping the floors dominates any part of your day, you'll find yourself with a lot more free time once switching to a robotic mop. You can go tend the garden, kick back and relax with a movie or even head out for a day of fun. All the while, you'll know that when you come back, your floors will be sparkling clean.
Cleaner, More Attractive Floors
Dirt, mud and debris make floors look dingy and unattractive, leaving you less than impressed with your home. When you leave the robotic mop in charge of the job, you can always have the cleanest floors around. And with that, you never again have to race around to make your house presentable when guests are about to arrive.
Fewer Germs Lurking in Your Home
When you have your mop scrubbing away at least once a day, any germs that got tracked in the house will be drastically reduced. Between the rapid scrubbing action and powerful cleanser, germs are simply outmatched. As the mop comes through each room, you can rest assured that it's clean enough to eat off of, though that's likely not a great idea anyway.
All these benefits are yours for the taking if you get a robotic mop in your new home. You can also install one yourself if your builder did not include this awesome device.
Where Your Robotic Mop Will Really Shine
Robotic mops are perfect for virtually any household. If you have kids and pets, it'll clean up their messes just fine. If you're flying solo, it will still give you plenty of extra time as it takes the mopping off your hands. No matter what your household looks like, you're sure to love having this device handling this tough job, day in and day out.